WebHealer + Griffen Mill = Beautiful Effective Websites
---
Griffen Mill Pixel Factory is a co-operative of independent designers and copywriters providing design services for the following key strategic partners:
WebHealer
,
WebVilla
,
WebStall
,
Motor-Web
and
PHD Interactive Ltd
. These are strong relationships that have been thriving for many years. Of them, our closest partner is WebHealer, for who's clients we have created hundreds of bespoke and customised designs over the last 10 years. We also provide design, multimedia and copywriting services directly to WebHealer. Some examples of our direct client work are listed lower down the page (including some examples for clients of our other strategic partners), or visit our
client examples
page for more summaries. There are also examples below of WebHealer strategic projects which our designers have supported.
The strength of our partnership is that clients of WebHealer are not limited to one designer, but are able to tap into a rich vein of design expertise from different designers with varying skills and areas of knowledge.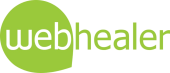 WebHealer
WebHealer are a specialist website provider catering to the needs of professional therapists, primarily counsellors, psychotherapists and psychologists as well as complementary therapists and natural health clinics.
In July 2016 WebHealer announced they had launched their 5,000th therapy website. Griffen Mill are proud to have worked with a great many of their clients over that time period. In fact we have developed bespoke and customised designs for over 500 WebHealer clients looking to take their websites to another level of design as well as providing copywriting services to clients needing help to better articulate the services they offer. To see some examples of design work we have carried out for WebHealer visit
pinterest.com/webhealer
.
In addition to bespoke client design, we support WebHealer directly with projects such as design, coding and copywriting for the
Feel Good Friday
project, the current WebHealer logo and a great many of the bronze design options available to WebHealer clients. We also have experience designing user interfaces and are currently working on enhanced functionality within a number of sections of the PHD Interactive control panel, known as the Administration Area.
Gold, Silver & Bronze
To simplify the design options for WebHealer clients and to enable them to realise the best possible design at the lowest price they need to pay we created the Gold, Silver and Bronze design options. Gold designs use the latest design methods and involve careful attention to detail by an experienced Griffen Mill designer, however many WebHealer clients can achieve the professional quality they are looking for using the fixed cost silver design service, carried out by a less experienced Griffen Mill design technican. The options are more limited but the results can be just as elegant and compelling. The bronze option is self customisation with the support of the WebHealer customer support team. Below you can see examples of Gold and Silver designs.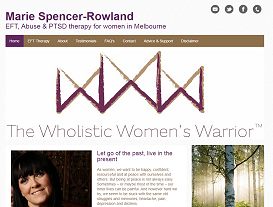 WebHealer Client Example
Marie Spencer-Rowland
Marie Spencer-Rowland is a counsellor and therapist specialising in EFT. Based in Australia, she turned to WebHealer to help with her website on the advice of friends. WebHealer were able to introduce two Griffen Mill specialists to help Marie achieve the website she now has. Becca Lister created a Silver Design incorporating Marie's branding and Elizabeth Eaton was able to provide the copywriting expertise Marie needed to ensure her website's communication performed just as well as the design.
"I was struggling to find a company that could help me set up my website and not empty out my bank account in the process. A friend of mine, who uses WebHealer, pointed me in their direction and I have to say it was the best decision I could have made. I am not IT literate by any means but these guys make it easy. My website is fresh, simple and easy to navigate and what made the entire process stand out even more was the WebHealer team. Most of my dealings were with Becca and she was professional, prompt, helpful and always ready to offer support if needed. It seems a rare quality these days to find a company that actually does what they say they are going to do but these guys did. They even put me in contact with a copywriter to help me put my content together and she was just as professional and helpful. Absolutely brilliant from start to finish and in every capacity and I'm not even in the UK. I'm 11 hours ahead at the bottom end of Australia. I would 100%, without a doubt, recommend WebHealer to any or all holistic therapist who need a website.
You won't be sorry."
Marie Spencer-Rowland, www.wholisticwomenswarrior.com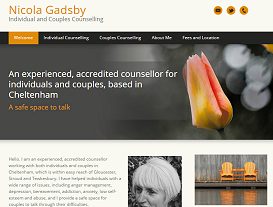 WebHealer Client Example
Nicola Gadsby
Nicola Gadsby is a counsellor based in Cheltenham and a WebHealer client. She was looking for a unique design which expressed her personal approach to her work and created the right emotional impact for visitors. It needed to be subtle and conservative but not boring.
The design created for her by James Morrison of the Griffen Mill team is a beautiful realisation of her own ideas combined with James's keen creative eye and technical ability. It is mobile friendly, using one of our latest "superhero" formats which look fabulous on a wide screen but equally stylish on a phone or small screen format. We all love the design, but most importantly so does Nicola.
"Thank you very much for doing a great job, producing a great design, fielding my witterings about the images, and calming my uncertainties all along the way. It's been a pleasure to work with you."
Nicola Gadbsy, www.ngcounselling.co.uk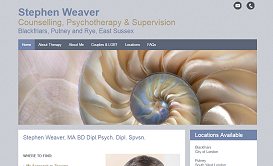 WebHealer Client Example
Stephen Weaver
This design was created by Becky Lister of the Griffen Mill team using our low cost Silver Design service. The silver service sets out to offer tremendous value for money by delivering individual design built around strong emotive imagery set within a predefined range of styles, thus avoiding the time and cost of full bespoke design. This design was created for counsellor and psychotherapist Stephen Weaver.
"As my practice expanded to include a new location, I took the opportunity to redesign my existing site as 'sister' to a new one. The process seemed daunting at first, but from start to finish I was encouraged and expertly advised by Becky at Griffen Mill Design and the team at WebHealer. Even my most nagging enquiries received the same patient and helpful response. I am delighted with the results and warmly recommend this service to anyone who is seeking to upgrade their online presence."
Stephen Weaver, www.counsellingetc.co.uk
WebStall, WebVilla & Motor-Web
---
Although the majority of our work is for WebHealer, we have also carried out a great many design projects for clients of WebStall, WebVilla and Motor-Web. This work has given us experience designing for antique dealers, holiday property owners, small hotel proprieters and the motor trade, including classic vehicles. Finally a small proportion of clients in different sectors reach us directly via PHD Interactive Ltd, which has given us experience working for the professions such as accountants, as well as many trades such as plumbers, carpenters, builders and painter decorators.
Quality Assured and Value for Money
---
Although bespoke design work can easily run into hundreds or thousands of pounds with other designers, the team in Griffen Mill have developed a lot of expertise working to tight budgets of just a few hundred pounds or less. Most of our non strategic client work comes via WebHealer, and these are typically sole practitioner therapists who don't have the luxury of a marketing budget. This is the reason they often select WebHealer in the first place, and so those looking to enhance their design expect that we can offer the same value for money they have received from WebHealer. In fact our therapist design projects are quality assured by PHD Interactive to ensure that we do achieve high standards of quality in design for a fair price. All designers in the Griffen Mill team work independently, and have their own working methods, but it is typical for all of us to offer an obligation free quotation before starting any work, and very often we will show a mock up of design ideas before asking for any financial commitment.
Bespoke Design, Ease of Use, Powerful features
---
The advantage of working with a Griffen Mill designer, as opposed to a local web designer, is that all our design work is built on the PHD Interactive website system. This means that clients get a unique, high quality design without being restricted to a static website which can't be updated without additional design assistance.

Small businesses especially, with limited technical know-how, will appreciate the very simple updating tools provided by the PHD Interactive content management system, as well as powerful industry leading search engine optimisation and marketing advice.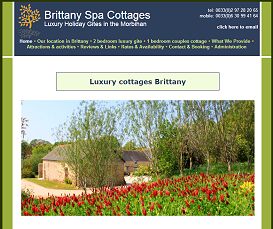 WebVilla Client Example
Brittany Spa Cottages
This WebVilla client operates a number of holiday cottages in Brittany, and needed a simple but professional website to show their all important property and local area photographs. Unlike the kind of website we may create for a WebHealer client, holiday property websites are often, as is the case here, very clean and minimalist. It is important not to distract from the impact of the photographs themselves. In this case the client had a logo which they were looking to incorporate, so a simple colour palette of green and blue was chosen, although we leaned towards subtler shades rather than anything too vibrant which can cheapen the overall appearance. Websites created for therapists via WebHealer can often afford to be a little more punchy in their design, as the content is largely text based, however this kind of website is fairly typical of our work for WebVilla clients.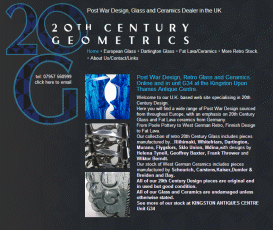 WebStall Client Example
20th Century Geometrics
This WebStall client was looking for an elegant design which would act as a smart showcase for his 20th century glassware items. The choice of a dark colour scheme with muted accent colours was deliberate to enable the items to be the stars of the show, rather than have the website design itself compete for attention. This type of design decision is crucial in ensuring a design is effective in its communication objectives. WebHealer designs for example tend to have slightly stronger design elements, as our WebHealer clients are not typically showing products, instead being primarily text based.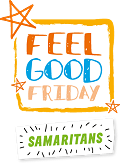 WebHealer Feel Good Friday Therapy Map
The original WebHealer Feel Good Friday Therapy Map was created by the Griffen Mill team in 2012. The purpose of the map was to promote therapists who participated in the Feel Good Friday fundraiser organised by Samaritans. WebHealer developed the therapy map concept as a way to make it easy for therapists to join in, by committing to donate a proportion of their fees on Feel Good Friday (first Friday in February) to Samaritans. Our design work was complemented by some excellent JQuery and Google API subcontracting. The finished map was very popular with WebHealer clients, of which over 100 signed up to support a worthy cause.
The 2013 version of the interactive Google map became so popular that we got involved to extend it over multiple pages, in a TV region style. Over 150 therapists took part in 2012. Also WebHealer committed to match funds raised by therapists in 2013. To see it in action, visit the live
Feel Good Friday
Therapy Map on WebHealer's website.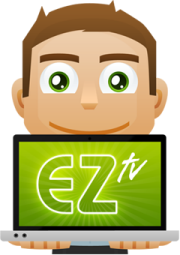 Email Newsletter Video
This was a project for all divisions of PHD Interactive. They recently launched an email newsletter feature for their clients, but were concerned that clients might struggle to visualise how it would operate. After a lot of time fine tuning the script and multi media concepts, we created this video to help. A professional voice over was organised to ensure the whole effect was very polished and easy to watch and listen to. To ensure maximum compatibility we used technology from Dark Onyx which supports both HTML5 and Flash.
Our partner was delighted with the finished result, and feedback from their clients has also been very positive. See the video on the
WebHealer Channel
of YouTube.
Curvy colourMAX design
The Curvy colourMAX project was an exciting challenge. The aim was to create a new, simple and elegant design for PHD Interactive that would become one of the standard off-the-shelf designs available to clients via their design library. It should also have the widest possible scope for customisation to allow for very individual versions of the design. On top of this we wanted to avoid the boxy look that normally accompanies customisable designs. That makes it challenging when clients with only the most basic of PC skills need to be able to customise the entire colour scheme and frame image themselves.
The solution was to work with complex layers of alpha transparency PNGs, to allow smooth curves in a range of colours as well as smoothly integrated images that don't require prior photoshop work. We were all delighted with the result, and it has become a very popular choice for WebHealer clients, in particular in the areas of counselling and reflexology.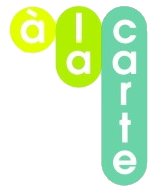 WebHealer A La Carte Design Service
The A La Carte design service was one of our most ambitious projects carried out for our key client WebHealer. It started out with a primary goal. We needed to find a way to offer unique customised designs for WebHealer clients, that were superior to the standard library designs, and were based around the client's own preferences of colour, imagery and style, and yet could be offered for a fraction of the price of full bespoke design. In the end there were two main strands to the project, which took almost a year to come to fruition. The first was a standard design platform, which offered a huge variety of options, in the same way that many types of cars under different brand names are built on the same underlying chassis or platform.
This was the work carried out by the Griffen Mill design team. The second part was a streamlined workflow system which allowed communications between client and designer to happen much more efficiently, as very often a high element of cost and design time is spent on communications, whether by telephone or email. This side of the project was built by the WebHealer database team. Fortunately, after all the effort that went into this, the final result exceeded everyone's expectations, to no small extent due to our decision to focus this very tightly around the typical styling requirements of WebHealer clients, rather than try to build a one size fits all system. We are currently creating 5 to 10 designs per month, and we recently completed
WebHealer A La Carte design
No. 500.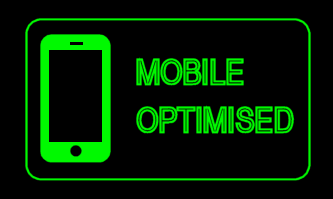 Mobile colourMAX design platform
Mobile colourMAX was created in Summer 2013 for WebHealer and partners. Its a very flexible responsive design, primarily focussed on being mobile friendly, and represents the first of a series of mobile optimised design platforms. In addition to the responsive technology, we introduced a huge number of new technologies such as Google Fonts, and dynamic creation of layered custom graphics using the ImageMagick system. This allows clients to switch colours as well as logos and graphics, and the system will auto-create a set of colour-matched graphics to accompany the new colour scheme.
The next mobile optimised design in the range will be Social colourMAX, which we are currently working on intensively. With our new design, we are taking our mobile optimised range to a new level with a new multi column layout that adapts and also repositions itself to accommodate the screen it is showing on. As the name suggests, Social colourMAX also integrates social networking as a core component of the layout, rather than a squeezed in addon. A final innovation with Social colourMAX will be the introduction of design variants. At present, the colourMAX range seeks to allow maximum scope for restyling with colours and replaceable primary images, but with our design variants we will be able to offer quite different layouts built on the same robust mobile optimised platform. One application of this design approach we intend to make available is for WebHealer clients who have upgraded to a WebHealer A La Carte design to have the option to convert that design into a special version of Social ColourMAX which incorporates their chosen primary images and colour schemes from the A La Carte design. Timing for the new design is this Autumn 2013.
More WebHealer Silver and Gold Design Examples
Our Silver Design service was created specifically for WebHealer and launched in 2015. It is a natural progression of our successful A La Carte service, which pushed the boundaries of custom design. It is created by an experienced designer but with a heavy emphasis on efficiency, value for money and low prices. Silver Design brings that concept into the mobile friendly age. At the same time we formally launched the Gold Design Service as our fully bespoke option, yet even here, there is a lot of cross learning between the two design teams. We seek to bring Silver Design efficiencies to the Gold Service and share Gold Design innovation with the Silver designer team. Here are a few examples.


---
Andrew Martin is a counsellor in the Crouch End and Muswell Hill area of North London, offering counselling and psychotherapy. In 2017 he took advantage of our Gold Design service to take his WebHealer website to a higher level of professionalism and design befitting his target audience. Strong evocative images create a compelling visual accompaniment to his words, which combined with a modern understated colour scheme result in a very effective online presence for a therapist. www.andrewmartincounselling.co.uk
---
The design for John Colverson's Jungian Analysis and clinical supervision website has been created for him by one of the Griffen Mill Gold design team. The design features a large image at the top of each page which all complement each other with a combination of colour and a natural setting. The site has a lovely fresh consistent style to it and the natural images and neutral colour scheme are great for a therapy based website as it emits a secure and calm energy which gives a reassuring feel while you read through how John can help you. These observations and comments were made on February 12th 2016 and the website may have been updated since then.
www.johncolverson.net