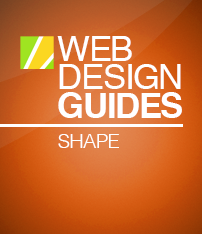 Physiotherapy Website Design - Shape and Aesthetics
Back to
Physiotherapy Website Design Guide
.
This is the Griffen Mill Design Guide to designing websites for physiotherapists. This section focusses on the use of shape and related aesthetic decisions. Other parts of the guide focus on choosing images, colour and making appropriate content and copywriting decisions.
Click to return to the main guide
.
Aesthetic choices for physiotherapists
---
In our experience physiotherapists have a preference for website designs that have a geometric, solid style or only subtle organic elements. Often a physiotherapists will prefer a more angular look that complements a practice logo or a particular image they like. This might be diagonals or even something more boxy which can be better suited to a more corporate image. Therapists may wish to offset a very clinical and hard edged design with a softer natural image of people that suits the colour scheme.

Below we have shown a few examples of designs we have created, with some commentary explaining the design rationale, which you may find useful in seeking inspiration for your own ideas.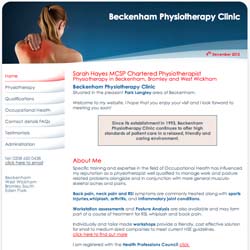 Strong and Professional
This design uses a bolder colour palette to create a clean and informative design specific to the the practitioners area of work. The colour scheme flows from the image through the site within elements such as the headings and emphasised text. The strong image is softened by the gentle curves brought into the layout design within the navigation menu and header break.
Simple and Sophisticated
This design has a clean and clear set up along with a simple monochromatic colour scheme that complements the header images. A professional white background tone along with a geometric layout design sets out an informative design that highlights the medical approach to a physiotherapists work.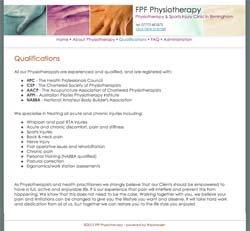 Clean and Calm
This design has a much softer feel when compared to the first examples. The gentle tones from the images within the header create a balanced and clear outlook that do not dominate the design, yet allow for the scheme to run through the content cleanly.
Example Physiotherapy Websites
Contact Us
If you'd like to speak to a Griffen Mill Pixel Factory designer, please go to our Contact Page for more information about how we work.
Latest on Twitter
We haven't set up our own Twitter account yet, so in the meantime why not take a look at what our strategic partner WebHealer is up to.
New Stuff
With the recent launch of Active Images, PHD Interactive have added a great facility to their website editor that we recommend clients make use of. It aids navigation and provides us designers with a great tool to engage visitors and encourage them to take a look at what's on offer... ideally resulting in an enquiry, subscription or some form of action. The website editor includes some free 'call to action' graphics (such as the one opposite) and we're also enjoying making custom graphics for our clients. Get in touch if you'd like us to make something for you.
Recent Client Work
Site: www.annabelrichcounselling.co.uk
"David made the whole process of upgrading my website to silver very easy to do. Since I have little technological ability he made the process easy to understand. The emails I received from him were prompt and courteous. I felt reassured that my business needs to promote my website were being handled in a professional manner. " See full case study