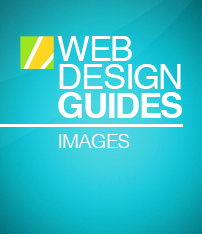 Acupuncture Website Design - Photographs and Images
Back to
Acupuncture Website Design Guide
.
This is the Griffen Mill Design Guide to designing websites for acupuncturists. This section focusses on the use of photographs as well as images such as diagrams or illustrations. Other parts of the guide focus on colour, shape and aesthetic designs and making appropriate content and copywriting decisions.
Click to return to the main guide
.
Images and Photographs for Acupuncturists
---
In most cases, an acupuncturist will wish to convey a warm and inviting impression with their website. They will also be looking to emphasise a human touch and give a reassurance that they can bring the client a sense of well being. Depending on the client, some acupuncturists will wish to convey a more therapeutic image, using photographs of clean and professional looking treatment rooms or of treatments taking place, while others will take a more spiritual and softer approach by using images of nature or of those relating to this ancient medicine.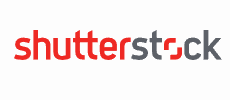 Sourcing Images for an Acupuncture Website
You can take them yourself, but these days online image libraries are a fantastic resource of high quality, low cost and immense choice. In fact there are so many images online, that it is useful to experiment with keywords to find just what you are looking for.
The obvious starting point for an image for an acupuncture website is to search for acupuncture, or acupuncturist. However depending on how the photographer has tagged their image, it may not find everything that you may be looking for. Try searching for needles or treatment perhaps. The other approach you can take is to type in mood keywords such as relaxing, as the emotional content of the website is all important. Once you have found an image that is close to what you are looking for, there may also be an option to 'see more like this', which will show you similar images that might just hit the mark.
A short list of words you might try for an acupuncturist may include: complementary, treatment, medicine, anatomy, needles, health, massage, healing, calm, holistic, balance, well-being, relaxing, mind and therapy.
We often use Shutterstock for images for acupuncture websites, as we find they have a good range of high quality photographs.
Example Images for Acupuncture
---
Finally, we have included below a number of typical images we might use with an acupuncture website. These images are not intended for you to copy and reuse, in fact there are likely to be copyright problems with you doing that. However we have included commentary on how we feel these images suit an acupuncture website, so that you can take inspiration from them and find your own individual images.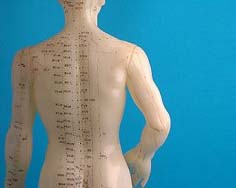 Acupuncture Model
Images such as this of an acupuncture model shows relevance to the in-depth knowledge and understanding that this ancient medicine has with the human anatomy and the science behind it. This can give reassurance to the client about this alternative therapy.

Calm and Relaxed Treatment Taking Place
This image of a woman having treatment shows how the practice is not painful or uncomfortable, a common misconception about having an acupuncture treatment. A calm and relaxed subject can help to show the healing properties of this practice.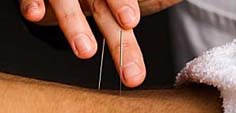 Delicate Needles
This image shows the delicacy of the needles and the gentle action of the practitioner within treatment. These sorts of images must be used sensitively within an acupuncture website.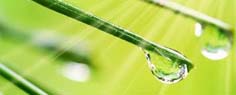 Soft and Natural
Not all acupuncturists wish to display images of needles or of treatments taking place. A natural image such as this of light shining though blades of grass with water droplets can be just as effective at showing the healing properties of the practice.
Example Acupuncture Websites
Andrew Jones has opted for mobile friendly design for his acupuncture and massage website. The midday blue that he has chosen helps to convey a subtle sense of integrity and trust which is perfect for an acupuncture website while the feature image brings in an essence of tranquillity and peace. Andrew has chosen other images for the site which both demonstrates the service he offers as well as visual practicality which visitors to the site will be able to relate to. These observations and comments were made on November 13th 2015 – the website may have been updated since then. www.acupunctureandmassage.net
Contact Us
If you'd like to speak to a Griffen Mill Pixel Factory designer, please go to our Contact Page for more information about how we work.
Latest on Twitter
We haven't set up our own Twitter account yet, so in the meantime why not take a look at what our strategic partner WebHealer is up to.
New Stuff
We've been thinking hard over the Summer about how we can help more PHD Interactive clients get access to high quality unique design without incurring the costs that tend to accompany bespoke design. There is our Silver Design service of course which is very popular and costs only £39 but PHD Interactive challenged us to come up with something else - something even better!

And so we have. We are putting finishing touches now to our Silver Gallery service. The Silver Gallery is a collection of pre-made designs, each created by an experienced designer. Clients will be able to preview their PHD Interactive website using any of these designs and choose the one they like best. Each design will be unique so once it has been chosen and paid for, no one else can have it. The cost? All we can say for now is that you will like it.
Recent Client Work
Site: www.bethnalgreencounselling.com
"I am very happy with how the design and logo has turned out. I appreciate your help in all this and am happy to endorse the work you have done in the context of a Testimonial. I look forward to receiving more enquiries with regard to my Counselling Services, and would certainly recommend you as someone to help with this. " See full case study