Web Design Tutorials
So you've been inspired by the many great designers and showcase websites out there. Now it's time to brush up on your skills with some web design tutorials!
Tutorials are a great resource as you might not be overly confident with how a particular design was created or even the techniques used to make the design a success rather than a failure.

The best bit is there are thousands of useful tutorials on the internet that you can follow at your own pace and in your own time.

Below I have listed a few useful web design specific tutorials to get you started.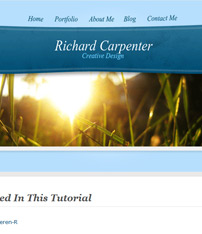 How to Create a Ribbon Heading
The heading area of your website is extremely important so what better place to start than a heading graphic tutorial!
This tutorial is for Photoshop (the most popular and most supported graphics program on the market). If you haven't got a copy I would highly recommend getting a trial version and seeing what you are missing.
That being said the tools across many design programs are very similar so this tutorial can still be followed if you're on other software such as Fireworks or Paintshop pro or Gimp.
Web Design Tutorial - Ribbon Heading
Notice how the texture and little details really make this design come together?
---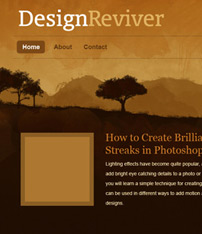 Artistic Heading Design Tutorial
This is another excellent web design tutorial that combines the use of textures from custom brushes and also features a well selected colour palette resulting in an excellent design.
Web Design Tutorial - Artistic Website Design
This silhouette technique could come in very useful across a range of different website styles and to keep it could be a white silhouette to keep the site lighter if desired.
---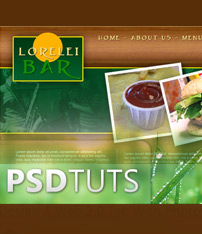 Additional Web Design Tutorials
You will find tutorials are great for learning new techniques however they are not all specific to web design. It's down to you as a designer to find creative tutorials for all types of design to help you expand your skill base in your preferred area of expertise.
Below are a few websites to get you started featuring well over 200 tutorials:
40 Great Web Design Tutorials
101 Header Web Design Tutorials
18 Photoshop Header Tutorials
---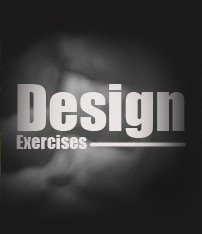 Not Tutorials - Web Design Exercises
If following tutorials isn't for you or you feel you've had enough of following step by steps but still want to improve your techniques and skills as a designer then why not try and set yourself some challenges to exercise your creativity?
You can become a faster designer by training yourself and it's always useful to practise and hone your skills whilst not risking any costly mistakes with your client.
The website below has 3 challenges to improve your Logo Design, Typography and Photo Effects / Manipulation skills.
Web Design Exercises
Contact Us
If you'd like to speak to a Griffen Mill Pixel Factory designer, please go to our Contact Page for more information about how we work.
Latest on Twitter
We haven't set up our own Twitter account yet, so in the meantime why not take a look at what our strategic partner WebHealer is up to.
New Stuff
We've been thinking hard over the Summer about how we can help more PHD Interactive clients get access to high quality unique design without incurring the costs that tend to accompany bespoke design. There is our Silver Design service of course which is very popular and costs only £39 but PHD Interactive challenged us to come up with something else - something even better!

And so we have. We are putting finishing touches now to our Silver Gallery service. The Silver Gallery is a collection of pre-made designs, each created by an experienced designer. Clients will be able to preview their PHD Interactive website using any of these designs and choose the one they like best. Each design will be unique so once it has been chosen and paid for, no one else can have it. The cost? All we can say for now is that you will like it.
Recent Client Work
Site: www.mariliacounselling.com
"I felt from his response to my very first email that David understood my vision with regard to the upgrade of my website. He promptly provided comprehensive information on choice of images and the colour theme. My much improved website went live within a few days. David is extremely professional in his approach and I am happy to recommend David's services without hesitation. I love the new look of my website!" See full case study