HEX Colour Picker, Web Color Picker, Online Colour Picker, Colour Scheme Designers? What are they and how can they help?
We all know the importance of colour when designing graphics for the web and for print... but what is the best way to pick colors and are there any tools that can help our choice?

We'll I'm pleased to say yes there is and we have reviewed 3 of our favourite online colour picking tools below. These colour pickers/choosers are 100% FREE! You can create colour palettes, use colour wheels and create themes simply, visually and quickly.

These tools also display the HEX values of the colours so that you can paste them directly into graphic or web design programs directly. In short these colour pickers are a great way to start a project or mood board and build up a strong colour schemes and branding alternatives from the very start.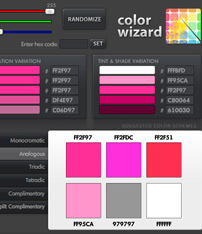 Color Wizard - Colour Scheme Editor
Color Wizard is a color picking application for anyone who wants to pick matching colours to create a strong themeWhat is it?
Color Wizard is visual and easy to use colour picking application. If your in doubt and you don't know which colour to choose or which colours compliment each other... well then this is the tool for you! It offers a range of settings where you can test different hue, saturations and tints! It also has more in depth picking suggestions like: monocromatic, analogous, triadic, complimentary and split complimentary.. if this sounds a bit complex don't worry as these options are visual and show the matched colours so just pick visually.
Click here to use Color Wizard!
www.colorsontheweb.com
RATING 4/5
---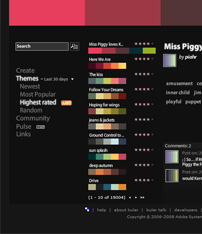 Adobe Kuler - Professional Colour Picking at it's finest?
Adobe Kuler feels like an industry colour picking software rather than a online picking colour application.What is it?
Adobe Kuler offers a a large dimmed working environment enabling you to pick precise colour styles in numerous ways. Kulers great benefit has to be how professional it feels whilst also supporting more experimental colour picking methods (such as its pulse feature where you can see and pick the most popular colours that have been selected worldwide). You can create an account for free if you would like to save your colour selections online and then you can use Kuler as your online 1-stop colour picking resource tool and community!
Click here to use Adobe Kuler
www.kuler.adobe.com
RATING 5/5
---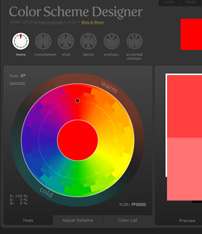 Color Scheme Designer - A Color Picker with a difference!
Color Scheme Designer can export your chosen colours directly to .CSS files, Photoshop palettes and much more. It can even show you how colours are viewed with different levels of colour blindness!What is it?
Color Scheme Designer offerings are similar to Kulers minus some of the frills and the community. You can select a variety of colour schemes and tweak with precise tools. This colour picker also has a random selection button but I feel it's main benefit is how quickly you can pick colours and build a palette to export directly into your graphic or web design program.
Color Scheme Designer also has a quirky yet interesting feature which shows how the colours look to people who are colour blind. This is a really neat feature and if accessibility is high up your list of colour picking priorities then this is crucial.
Click here to use Color Scheme Designer
www.colorschemedesigner.com
RATING 4/5
Contact Us
If you'd like to speak to a Griffen Mill Pixel Factory designer, please go to our Contact Page for more information about how we work.
Latest on Twitter
We haven't set up our own Twitter account yet, so in the meantime why not take a look at what our strategic partner WebHealer is up to.
New Stuff
We've been thinking hard over the Summer about how we can help more PHD Interactive clients get access to high quality unique design without incurring the costs that tend to accompany bespoke design. There is our Silver Design service of course which is very popular and costs only £39 but PHD Interactive challenged us to come up with something else - something even better!

And so we have. We are putting finishing touches now to our Silver Gallery service. The Silver Gallery is a collection of pre-made designs, each created by an experienced designer. Clients will be able to preview their PHD Interactive website using any of these designs and choose the one they like best. Each design will be unique so once it has been chosen and paid for, no one else can have it. The cost? All we can say for now is that you will like it.
Recent Client Work
Site: www.mariliacounselling.com
"I felt from his response to my very first email that David understood my vision with regard to the upgrade of my website. He promptly provided comprehensive information on choice of images and the colour theme. My much improved website went live within a few days. David is extremely professional in his approach and I am happy to recommend David's services without hesitation. I love the new look of my website!" See full case study