Design Tools
---
There are so many great online tools available these days to help web designers with ideas and creativity as well as resources to simplify some of the headaches of web design such as cross browser/platform issues. All web designers face the same problems, so in this section we'll be reviewing a selection of online tools, and awarding our own rating system.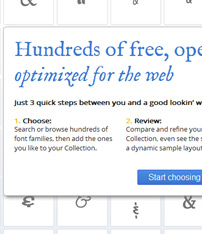 Latest ... Google Fonts Analysis
Google fonts are becoming increasingly popular as a means to ensure that whatever device you are accessing your web pages on, and whatever version or operating system the device has been updated to, you can reliably see the same font as the designer intended you to see. The problem was long overdue a solution, as we no longer have to deal with whether the browser is on an Apple or a PC, but now we have Linux, Internet Explorer 6,7,8,9 and 10, Windows 7 and Windows 8, and of course iPhones, android phones and many more to come no doubt. Unfortunately even Google Fonts has the odd niggle, so as part of our quality control we're documenting our experience of testing Google Fonts across browsers. See
Google Web Fonts and BrowserStack Analysis
for more information.
Design Tools Review
---
Heres the rest of our current design tool reviews. We'll add more in time, but these are the ones we've found most useful in our project work for
clients
.
Contact Us
If you'd like to speak to a Griffen Mill Pixel Factory designer, please go to our Contact Page for more information about how we work.
Latest on Twitter
We haven't set up our own Twitter account yet, so in the meantime why not take a look at what our strategic partner WebHealer is up to.
New Stuff
We've been thinking hard over the Summer about how we can help more PHD Interactive clients get access to high quality unique design without incurring the costs that tend to accompany bespoke design. There is our Silver Design service of course which is very popular and costs only £39 but PHD Interactive challenged us to come up with something else - something even better!

And so we have. We are putting finishing touches now to our Silver Gallery service. The Silver Gallery is a collection of pre-made designs, each created by an experienced designer. Clients will be able to preview their PHD Interactive website using any of these designs and choose the one they like best. Each design will be unique so once it has been chosen and paid for, no one else can have it. The cost? All we can say for now is that you will like it.
Recent Client Work
Site: www.mariliacounselling.com
"I felt from his response to my very first email that David understood my vision with regard to the upgrade of my website. He promptly provided comprehensive information on choice of images and the colour theme. My much improved website went live within a few days. David is extremely professional in his approach and I am happy to recommend David's services without hesitation. I love the new look of my website!" See full case study