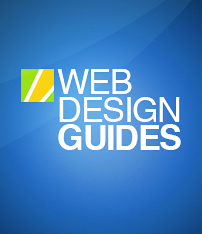 Designing Websites for Holiday Cottages
This is the Griffen Mill design guide to designing websites for those renting holiday cottages, part of our
website design guide
series. Over the years, the individual designers within Griffen Mill have created websites for a great many owners and renters of holiday cottages, via our key client WebVilla. Very often the website design needs of a holiday cottage owner are very simple compared to other types of website. For example the owner of a Lake District holiday cottage needs just 3 things: well presented beautiful photographs of their property and nearby Lake District scenes; simple navigation for key information and clear contact details. Ideally there will be up to date availability information.
Typical design requirements for holiday cottage websites
When renting holiday cottages, the principle features of the website are the original photographs of the property and the local area. For this reason it is important to avoid features which overly distract from this priority. A clean and simple house colour palette for text and design elements is desirable to put across a professional and organised image. Not only does the website visitor need to be impressed and excited by the prospect of staying in the property, but they ought to be reassured by the professionalism of the person they are going to trust sending money to. A disorganised hotch potch of a website suggests a disorganised person behind the scenes.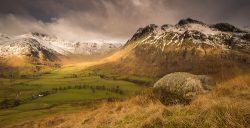 Use of Images
Strong images cropped to show just the important features are critical. Ensure they are sharp and taken in good light. The ones you will need to take yourself are those of your property. When it comes to images of the surrounding area, look to places like Flickr, where many images can be used by you on your website, as long as suitable reference is made to the copyright owner. Email to check if you are unsure. The photograph shown here has been provided by
www.lakedistrictcalendar.co.uk
, and has been shown with their permission, it shows one of the classic Lake District scenes of the Langdale Pikes and so is likely to inspire anyone looking to stay near Langdale. If you do have a property in the Lake District, you are invited to visit the Lake District Calendar website and request that you use one of their images. All they require is a reference and a link to www.lakedistrictcalendar.co.uk in return. And if all this talk of the Lake District inspires you to visit, you could do worse than pop over to
South Lakeland Tourist Information
.
Layout and Colour
Subtle things can make a difference between a thoroughly reassuring website, and one that doesn't quite hit the spot. Do not try to stuff overly large photographs into the webpage, or you will dominate the rest of the content. Use "click to enlarge" options so that a suitable modest sized photograph can be presented tidly amongst your contents, and a large potentially full screen photograph can be displayed when clicked. Also, be mindful of the colours in the image, and try to achieve some harmony of colour throughout the website. If the property is a house in the Lake District for example, then suitable colours might be greens or autumnual natural colours, which are more in keeping with the Lake District than blue and whites which might suit a villa in Greece.
Booking Facilities
These days, with a lot of last minute booking, people require a quick response, and confirming availability is the first thing they will need to know. It is still sufficient to show a phone number and email, but be prepared to respond quickly or you will lose the business. A mobile number is best. If you are comfortable with technology you can use an online booking system, which is often reassuring to visitors wanting to know about availability. There are paid for services such as bookingtracker.com, but you can find free ones if you search around.
Contact Us
If you'd like to speak to a Griffen Mill Pixel Factory designer, please go to our Contact Page for more information about how we work.
Latest on Twitter
We haven't set up our own Twitter account yet, so in the meantime why not take a look at what our strategic partner WebHealer is up to.
New Stuff
We've been thinking hard over the Summer about how we can help more PHD Interactive clients get access to high quality unique design without incurring the costs that tend to accompany bespoke design. There is our Silver Design service of course which is very popular and costs only £39 but PHD Interactive challenged us to come up with something else - something even better!

And so we have. We are putting finishing touches now to our Silver Gallery service. The Silver Gallery is a collection of pre-made designs, each created by an experienced designer. Clients will be able to preview their PHD Interactive website using any of these designs and choose the one they like best. Each design will be unique so once it has been chosen and paid for, no one else can have it. The cost? All we can say for now is that you will like it.
Recent Client Work
Site: www.mariliacounselling.com
"I felt from his response to my very first email that David understood my vision with regard to the upgrade of my website. He promptly provided comprehensive information on choice of images and the colour theme. My much improved website went live within a few days. David is extremely professional in his approach and I am happy to recommend David's services without hesitation. I love the new look of my website!" See full case study