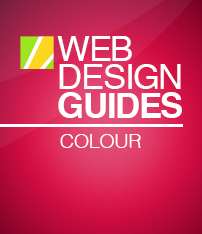 Hypnotherapy Website Design - Using Colour
Back to
Hypnotherapy Website Design Guide
.
This is the Griffen Mill Design Guide to designing websites for hypnotherapists. This section focusses on the use of colour. Other parts of the guide focus on choosing images, and making appropriate content and copywriting decisions.
Click to return to the main guide
.
Colour for Hypnotherapists
---
As with any website and client, individual client preferences are paramount, however in our experience certain colour choices and palettes are more popular with hypnotherapists. These tend to be colours associated with a calm, inviting and neutral outlook, such as blue and turquoise. Rarely would we create a hypnotherapy website with vibrant colours such as pink and red, which may not create the right feel to its visitors. Hypnotherapy websites are better suited to a more "medical" feel. Although, there is always a balance to be met when designing for hypnotherapists, as the website aims to be professional and grounded, yet it is also vital to create a warm and inviting appeal, sensitive to the nature of the client's work.

Another factor that will of course influence colour is the image choice, and hypnotherapy websites are likely to include images that convey a sense of space and freedom, an open landscape or natural scenery. It is key therefore to ensure your palette complements this.
Colour Palettes for Hypnotherapists
---
There are a number of tools online which are suitable for experimenting with and choosing colour palettes. Here are a few that we have used often for hypnotherapy websites. Different therapists will have a leaning to different styles of palette, depending on whether they wish to present a more individual and vibrant look or something more low key and businesslike.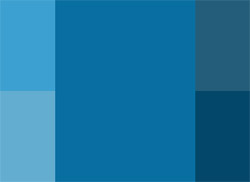 Option 1: Smart Monochromatic
This scheme is based on a single colour tint, and uses only variations made by changing the saturation and brightness. A hypnotherapist may wish to use this scheme to maintain a consistent design, in-keeping with their logo or existing business literature. The use of lighter shades as a background tone along with darker headings will balance the design well. A more saturated blue used as an accent colour can complement a monochromatic design by highlighting certain elements well.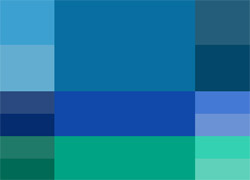 Option 2: Cool Complement
This colour scheme uses an analogic model, which complements the primary colour with its adjacent colours set at either side on the colour wheel. By using a tone only 20 degrees from the primary colour, a natural and elegant cool complementing scheme is created. These calm and gentle colours are perfect for a hypnotherapy website as they create a safe and inviting appeal, whilst maintaining a professional and grounded outlook.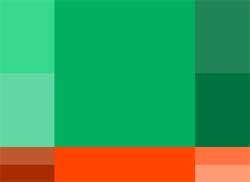 Option 3: Cool Contrast
This palette is based upon calm and natural turquoise shades that could be used within a monochromatic scheme, of which is a range used often for hypnotherapy websites. This gentle and professional tone is complemented well by use of a contrast colour. In this case a warm shade from the opposite side of the colour wheel will balance the design. These warm shades can be used carefully as an accent colour within the website, for use in subheadings or links. It is important to ensure the contrast shades are used delicately so as not to overpower the design.
Example Hypnotherapy Websites
---
James Cairns has chosen a green hue for this simple hypnotherapy website. Green is a popular colour for therapists in general, and this design which is one of the standard WebHealer designs can suit a hypnotherapist looking for a slightly cooler more clinical image. See it as
www.jamescairnshypnotherapy.co.uk/
---
JB Hypnotherapy has also chosen a nature inspired colour palette, but has added to it with some sky blues and wild flower imagery. This gives the website a little more lift, and the flower image conveys a sense of new growth and opportunity, which suits a hypnotherapy website. You can see how it looks at
www.jb-hypnotherapy.co.uk
---
Tim martin has taken a very different approach to his therapy website design, choosing a more corporate image. The shades of blue echo this, as blue is often used to communicate a businesslike approach. This bespoke design has a fresh appealing style and communicates the aims of the practice well, and can be seen at
www.harleystreethypnocoaching.co.uk
---
Peter McMartin has opted for a very simple design in a shade of dark red. This is not a particularly popular colour for hypnotherapists, but that can often be a conscious decision by therapists looking to avoid a me-too design. Images have also been avoided, instead sticking to the basic facts of the service offered. See this at
www.petermccartinhypnosis.co.uk
Social ColourMAX is the design of choice for Richard Jenkins and his Hypnotherapy and Counselling website. The feature image of a stone path winding through a wood is perfectly complemented by the soft brown and green colour scheme. The natural image and soft colours help to convey a sense of calm and down to earth strength that I perfectly suited for a therapy website. Richard has added an image of himself to his home page which helps to add a feeling of familiarity to potential clients. These observations and comments were made on November 19th, 2015 - the website may have been updated since then. www.counsellingandhypnotherapy.org
---
Nick is using one of WebHealer's mobile friendly Bronze designs for his Exeter Hypnotherapy website and he has customised it himself to give some personalisation. The colours he has chosen complement the feature image he has added to the top of his Home page which gives the site a calm and well balanced feel. He has also added a portrait image of himself into the right hand side of the pages which is a great way of giving a sense of familiarity to your potential clients, helping them to feel more at ease in making that first initial contact. The teal colour scheme that he has chosen is also a great choice for a hypnosis website as it is said to instil a sense of balance, trust and integrity. These observations and comments were made on September 12th 2016 – the website may have been updated since then.
www.exeterhypnosis.co.uk
---
Kevin Shaw has opted for the Social ColourMAX mobile friendly design for his hypnotherapy business website. He has gone on to customise this with his own logo image and a colour scheme to match. Brown is a great choice for a hypnotherapist, as it is said to convey a friendly and down to earth vibe which visitors to his website will pick up on. Many clients with distinctive branding will go on to upgrade to create a unique design identity built around their logo using either our Gold or budget Silver design service. These observations and comments were made on December 9th, 2015 - the website may have been updated since then.
www.kevinshawtherapy.co.uk
---
Jane Sheehan is using WebHealer's mobile friendly Social ColourMAX design for her hypnotherapy and reflexology website. The feature image and colour scheme complement each other really well and the soft pink of the petals is gently carried over into the design. Pink is a great colour use a hint of as it is said to convey a sense of nurturing and unconditional love, which is great for a natural therapy site. The image Jane has then added of herself fits perfectly with this as she is wearing a pink top which demonstrates how important a common visual language throughout the website is. These observations and comments were made on December 8th, 2015 - the website may have been updated since then.
www.norwichtherapiesforhealth.com
---
Solihul Holistic Health have chosen a mobile friendly design for their reflexology and hypnotherapy website which they have customised with a lovely colour scheme. The soft and gentle green is complemented by a hint of pink which gives the site a feeling of nurturing balance and growth which suits their therapy field perfectly. The feature image they opted for also incorporates this colour scheme giving the site a sense of stability and harmony which is carried through all of their pages. These observations and comments were made on November 5th 2015 – the website may have been updated since then.
www.solihullholistichealth.co.uk
Contact Us
If you'd like to speak to a Griffen Mill Pixel Factory designer, please go to our Contact Page for more information about how we work.
Latest on Twitter
We haven't set up our own Twitter account yet, so in the meantime why not take a look at what our strategic partner WebHealer is up to.
New Stuff
We've been thinking hard over the Summer about how we can help more PHD Interactive clients get access to high quality unique design without incurring the costs that tend to accompany bespoke design. There is our Silver Design service of course which is very popular and costs only £39 but PHD Interactive challenged us to come up with something else - something even better!

And so we have. We are putting finishing touches now to our Silver Gallery service. The Silver Gallery is a collection of pre-made designs, each created by an experienced designer. Clients will be able to preview their PHD Interactive website using any of these designs and choose the one they like best. Each design will be unique so once it has been chosen and paid for, no one else can have it. The cost? All we can say for now is that you will like it.
Recent Client Work
Site: www.bethnalgreencounselling.com
"I am very happy with how the design and logo has turned out. I appreciate your help in all this and am happy to endorse the work you have done in the context of a Testimonial. I look forward to receiving more enquiries with regard to my Counselling Services, and would certainly recommend you as someone to help with this. " See full case study